Date/Time
Date(s) - Tuesday, April 13, 2021
7:30 pm - 9:30 pm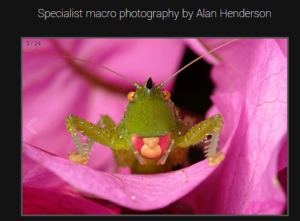 Alan Henderson has a passion for macro photography, specialising in high quality insect and spider images.
Alan's knowledge of insects, spiders and other small animals has enabled him to capture many superb moments of natural behaviour and is key to his
success with the camera.
His work has been published worldwide in books, magazines, museum, and zoo graphics and online.
He has worked closely with wildlife for over 20 years and has become a specialist in the field of invertebrates.