Date/Time
Date(s) - Tuesday, September 13, 2022
7:30 pm - 10:00 pm
Zooming from the Channel Islands, Guernsey, Steven Le Prevost.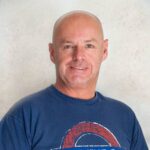 The talk is called "A Feeling of Impressionism" and will cover work from 2015 to present day.
I concentrate on three genres, still life, nautical and character studies.
All of my work in recent years has been influenced by impressionism.
My goal is to create pictures that portray mood, atmosphere, and emotion.
I will show work from three Fellowship panels, the methods I use, my approach to being creative, the pictures that work and those that didn't work.