Open
OPEN competition, images may be either Colour or Monochrome.
The subject content is unrestricted and may include creative images, with all forms of manipulation permitted.
With regard to all entries, the maker must have exposed or created all elements of the final image
A greyscale or multi-coloured image modified or giving the impression of having been modified by partial toning, multi toning or by the inclusion of spot colouring does not meet the definition of Monochrome and will be judged as a Color Image.
However, straight photos of someone else's artwork, sculpture etc are not acceptable.
Try to incorporate something distinctive to yourself (added subject matter, viewpoint etc) which would make your photo unique and noteworthy.
Action
There are two basic ways to deal with an action subject:
Freeze its motion by shooting at a fast shutter speed
Or blur it by shooting at a slower shutter speed.
Images not necessarily from a sporting event, can be from daily life.
Basically, anything that is moving.
Architecture
Architecture can be a building or structure of any type, old or modern, exterior or interior. Any part including windows, doors, roofs, stairways, steeples, towers, domes, etc.
PSA: Altered-Reality Creative Definition
The Images for this competition may be color or monotone and the subject is open.
In this competition Creative Altered Reality Images must demonstrate both creativity and altered reality.
Creativity of an image is a dominant consideration in the competition, as exhibited by imaginative content and skill, originality of expression, unusual juxtapositions, and uniqueness of vision. The image should surprise the viewer.
The image must exhibit alteration through digital post-processing of the original image.
Such Altered reality must be readily apparent to the viewer.
Images must originate as photographs (image capture of objects via light sensitivity) made by the entrant on photographic emulsion and digitally scanned; or directly acquired digitally.
Images must be the entrant's own work and may not incorporate elements produced by anyone else.
The judges' decision on whether the altered reality is "readily apparent" is final.
Purpose of the Photo Travel (PT) Definition
The PSA Photo Travel Division is reality-based, like the PSA Photojournalism and Nature Divisions.
The objective of PSA Photo Travel is to show the world as it is found naturally.
The purpose of the Photo Travel Definition is to guide Photo Travel photographers towards making images that show how our world really is, rather than to arrange it and manipulate images to obtain the "best" photographs.
Photo Travel images should be a true record of that scene.
The Photo Travel Definition is also a guide for exhibition judges to ensure that images that violate the definition are not accepted.
PSA: Photo Travel (PT) Definition
A Photo Travel image expresses the characteristic features or culture of a land as they are found naturally.
There are no geographic limitations.
Images from events or activities arranged specifically for photography, or of subjects directed or hired for photography are not permitted.
Close up pictures of people or objects must include features that provide information about the location.
Techniques that add, relocate, replace, or remove any element of the original image, except by cropping, are not permitted.
The only allowable adjustments are removal of dust or digital noise, restoration of the appearance of the original scene, and complete conversion to greyscale monochrome.
Other derivations, including infrared, are not permitted.
All images must look natural.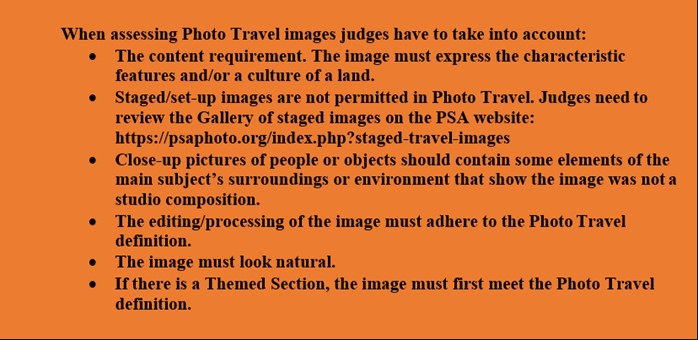 Below in the PDF file are the individual sections of the PT Definition, illustrated examples and comments:
PT Photo Travel Sections
PSA Photojournalism Division—effective June 1, 2021
Guide for Judges, Chairs and Entrants of PSA- recognized Exhibitions with Photojournalism sections, and for all other Photojournalism competition and
activities in the PJ Division.
Purpose of the Definition
The PSA Photojournalism Division (PJD) is reality-based, like the PSA Photo Travel and Nature Divisions.
The objective of PSA Photojournalism (PJ) is to capture spontaneous moments in our world to make informative images with impact. The purpose of the PJ definition is to guide photojournalism entrants towards showing life as it is, rather than how they would like it to be, to avoid deceiving the viewer and to produce truthful depictions of their observations. This illustrated guide is intended to help everyone gain a clearer understanding of the definition, and to guide judges to accept appropriate PJ images that succeed without violating the definition.
In summary, the entire PJ definition:
Photojournalism entries are images with informative content and emotional impact, reflecting the human presence in our world. The journalistic (story-telling) value of the image should receive priority over pictorial quality. Images that misrepresent the truth, such as those from events
or activities arranged specifically for photography, or of subjects directed or hired for photography, are not eligible. Techniques that add, relocate, replace, remove or change any element in the original scene, except by cropping, are not permitted. The only allowable modifications are removal of dust, scratches or digital noise and restoration of the appearance of the existing scene, or complete conversion to full monochrome.
Other derivations, including infrared, are not eligible. When Human Interest is SPECIFIED, those images should depict a person or persons in an
interactive, emotional, or unusual situation, excluding sports action.
Note to Judges:
Judges of PJ exhibitions should ask themselves if the image meets every aspect of the definition in their opinion. If not, it should be scored lower, regardless of the photographic merit. However, disqualification (DQ) is reserved for a violation that is unambiguous, and not based on opinion.
Below are the individual sections of the Photojournalism, illustrated with examples to explain each part of the definition and some examples of images that do not meet the definition.
Photojournalism Sections
PSA Nature
Below in the PDF file are the individual sections of the Nature Definition, illustrated examples and comments:
Nature Photography Guide 2022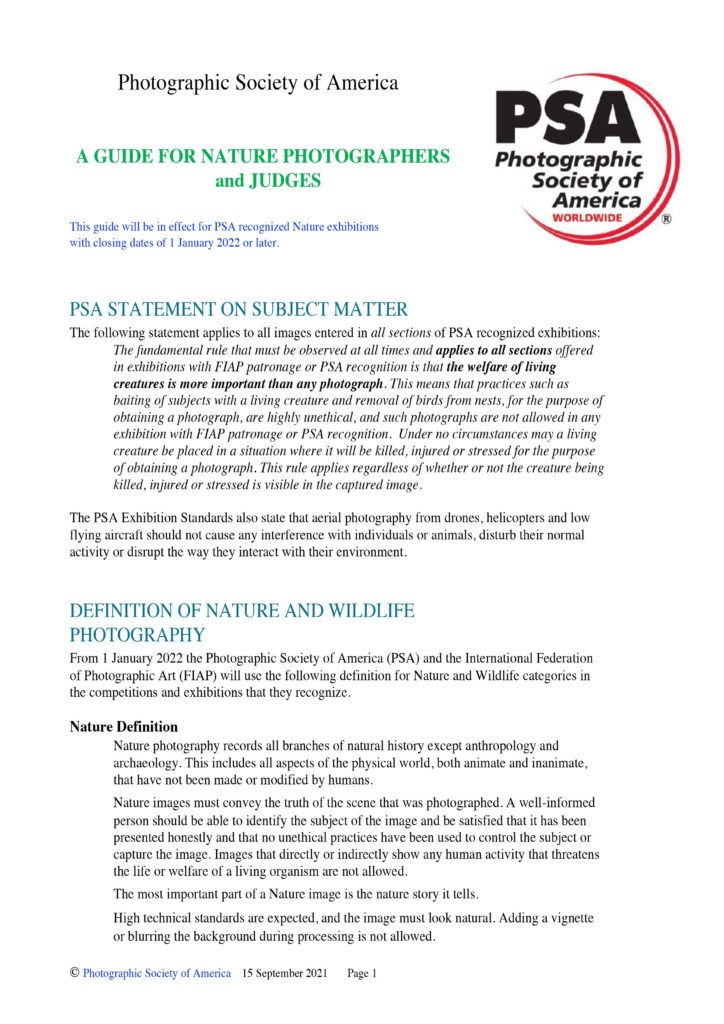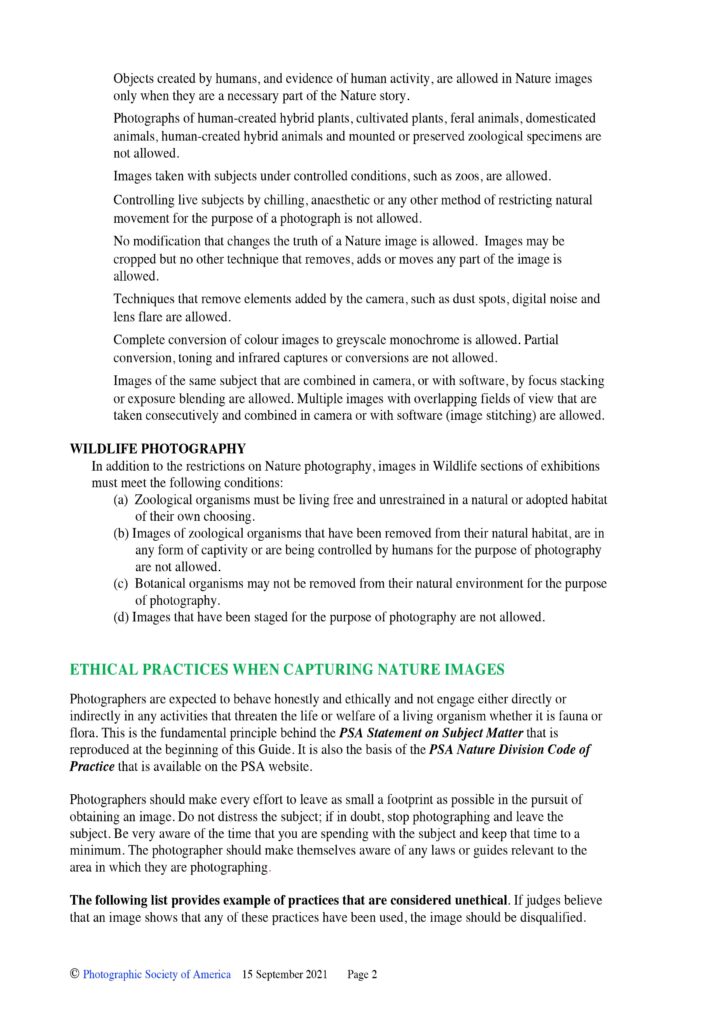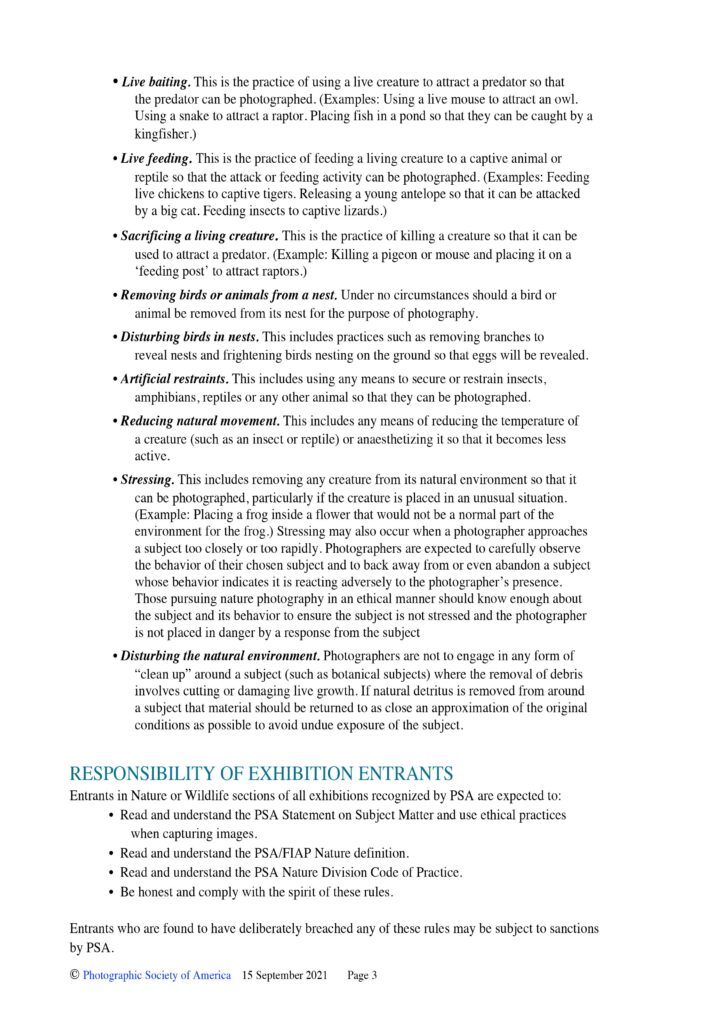 Please refer to the Nature PDF above for more detailed information.
Landscape
Landscape photography attempts to capture a moment in nature and reveal something special and spectacular about it. It's pretty clear that "landscape" is generally used to refer to open land, outside the city, with little (often no) evidence of human habitation. Common subjects for landscapes include mountains and valleys, fields, lakes, rivers, waterfalls and coastlines, deserts etc.
Seascape
Seascape photography is a branch of landscape photography where the sea is part of the main subject of the image.
People
Photography of subjects acting naturally or spontaneously without being posed. People photography is more about taking shots of people within their environment. Find a good location where you can photograph people doing all sorts of things. Capturing a moment of their daily life can provide you with some interesting pictures. Try finding a busy location with a lot of people, such as a crowded subway station or a busy market, where they won't notice your presence. You will find yourself in the middle of a multitude of photo opportunities with different people in each shot. You can either make them aware of the fact that you are taking photos of them or not, but usually people who don't know they are being photographed will seem more natural in the image.
Portrait
A 'Portrait' is defined as any image which has the intent of displaying a likeness, personality, mood, emotions or lifestyle of a person or small group of people, in such a way that the person or people may be readily identified from the image. The focus of the images ought to be on the subjects face, although the whole form may be included, the face and facial expression should be the most important parts of the image. Both studio and environmental portraits, formal or informal, are acceptable; with the image being presented in either 'Landscape' or 'Portrait' format. The person or people must be the main subject matter within the image. The subject must be human – sorry animal shots will not be accepted.
Sports photography
is one of the most exciting and challenging types of photography. Capturing the action at its peak is your ultimate goal. In sports anything in the scene will be moving. Decide how you would like to capture that movement. Straight shots, no manipulation. Cropping for size only.
Fast shutter speed; to freeze the action. (so it looks still) or a Slow shutter speed; to let the movement blur giving the feeling of speed or excitement. Panning; moving your camera along in time with the moving subject so they come out nicely in focus/sharp but the background blurs. This gives a feeling of movement and speed. Sports photography isn't just about capturing star athletes at the top of their game — some of the greatest shots focus on the reaction after a win, fans and athletes coming together, or the crowning of a champion on the Olympic podium. Others highlight an athlete's physique.
Street Photography
Street photography is a non-formalised genre of photography that features subjects in candid situations within public places such as streets, parks, beaches, malls, political conventions and other associated settings. Images can often be ironic or emotionally detached from subject matter, focusing instead on a particular context or detail. Framing and timing are key aspects of the craft, with the aim of creating images at a decisive or poignant moment.