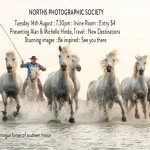 Tuesday 14/08 Do not miss this evening!
Travel – New Destinations
Alan & Michelle Hinde have travelled the world for many years and presented their excursions to photographic clubs, inspiring members to their wonderful world of travel. Stunning images in audio visual format.
..thanks Alan and Michelle for sharing so much..