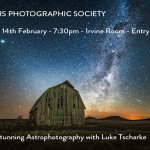 Tuesday 14/02  Presenter, Luke Tscharke, Astrophotography.
Luke Tscharke – Landscape and travel photographer.
We kicked off the first meeting for the year with Luke Tscharke presenting Astrophotography.
It was an exciting evening for the members, this was the first ever presentation on Astrophotography. A fantastic evening by Luke and inspirational images.
Luke specialises in composing and capturing wide field Milky Way images and runs workshops in different locations.
Feedback:
Luke's presentation was fantastic! Very nicely done and super interesting!  Jochen Hess
Excellent presentation by Luke.  Les Atkins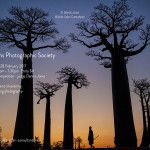 Tuesday 28/02 Competition – Open.
Competition got off to a great start with a large number of entries. in all categories.
Judge Dennis Jones is well experienced at camera club judging and gives a very good critique on competition images aimed at being helpful to members learning.
Feedback:
Thanks Dennis, you do a great job!
Online subject – Curves judged by Luke Austin