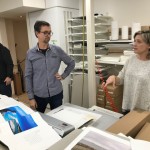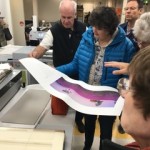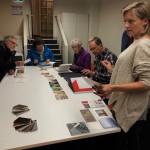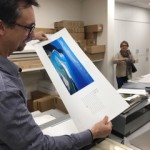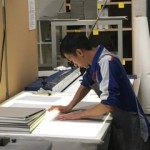 Monday 18/06:  Momento Pro Production tour.
It was an excellent tour and the feedback says it all.
Kerry has been using Momento Pro books for some time and won April book of the month "Dolomites in Autumn' and last year won 'Japan in Winter'.
Both her books were on display in reception.
Sue: Thanks Joslyn for organising the Momento Pro Tour.  It really was great and having a pre-tour get together at café Vite was an excellent idea. We arrived early at the Momento Factory and had a look through the photo books on display. The tour was excellent.
Keith: I enjoyed an informal meeting of members of the club in the warm café, enjoying hot coffee and fresh scones on a cold and wet afternoon.
The Momento office was but a short walk from the café, and we were there guided through the Momento system very professionally by the founders and owners, who were clearly passionate about their creation, and their new premises. Following this tour we were taken to the boardroom where we had the opportunity to inspect and discuss Momento's multiple products, in some detail.
As a bonus, I discovered that as a member of the club, I am entitled to the Pro membership, which allows me to order high quality inkjet printed books.
Many thanks to Momento for the tour, and also to Sue and Joslyn for all the work that they do for us.
Robbie: The tour was excellent. Thanks for organising it and the wonderful refreshments served at the Café Vite complimentary with the tour. We were fortunate to have the owners of Momento show us around and they made us feel very welcome. I personally got a lot out of the tour because doing photo books is my main photographic activity. I have done over 100 photo books in the last 6 years since retiring and although I have been using a Melbourne based company called photobookshop I appreciated seeing how an up market high quality operation like Momento goes about its business. Thanks again for organising this Momento tour.
Patricia: Firstly, we met for afternoon tea at a spacious café nearby.  Apparently it does a roaring lunch trade, less so for afternoon tea.  Nonetheless, we were provided with an excess of food, both savoury (toasted 'sandwiches' out of Lebanese / Turkish or similar large flattish loaves) and toasted banana bread and muffins, plus cream and honey to spread on them.  Coffee or tea as required.
Our appointment at Momento was for 3.30, but we were welcomed when we arrived early, by the youngish, enthusiastic people running it.  It was apparent we were enjoying our 'guided tour', which extended from 30 minutes to at least an hour, with plenty of time to admire the printing presses, quality control, assembly and stitching together of the books.  Then we saw and could take examples of the different papers, with well reasoned answers to our questions. Thanks to the club and organisers;  it was a most informative tour.
Simon: NPS visited Momento Pro publishers, a photo book publishing company based in Zetland, and familiar to photographers across Australia.
Members met at Café Vite adjacent to the Momento offices where we were royally treated having a table and a range of lovely assorted cakes, pastries and sandwiches prepared for us.
This popular and spacious establishment is well worth a visit if in the locality.
Sue led us to the Momento offices where we were greeted by the owners. Momento recently moved to this location and the modern designed office block which can accommodate all the printing, supplies and administration facilities. The reception area included examples of printed books including members own works!
We were shown state of the art printers capable of large runs and amazing quality levels. The company prides itself in the bespoke nature of the books, and we could see the dedication with print quality checking, and hand bound covers, bindings and packaging.
The range of papers used is extensive, as is the types of both covers (leather to paper print), bindings from normal to flush flat pages. The high end photography books are individually checked to ensure perfect print quality and coincidentally, we saw examples of this quality scrutiny with a Ken Duncan portfolio being produced. Example of the types of flaws were shown, which in this case results in reprinting to get perfect quality for such high end market book printing. There were many questions from club members concerning the fine detail in producing such publications, and these were dealt with professionally. It is clear Momento are passionate for achieving quality and keen to deal with enquiries and concerns from clients who wish to have photographs printed and bound.
The company is keen to support photographers from amateurs to high end professionals, and as such photography clubs and members upon registration can attract discounts.
Peter: I just had coffee at the restaurant, and didn't partake in the food on offer. Nicely setup café, pleasant surroundings.
Momento was also most interesting from both a technical and 'product' perspective.
My thanks to Joslyn who organised the Momento visit.
Kerry: I thought the Momento tour was excellent. They showed us the working printers and the difference between the prosumer and professional ones. We were also shown the different types of papers different bindings and the difference between the ordinary book and the lay flat book, which I had not appreciated before. We were given paper samples to take home and told of the 10% discount (and a 30%discount for 1st timers) for club members. Momento gave us a much longer tour than the advertised 3.30-4 advertised time, and I think everyone really appreciated this. It was also good to see and feel the different types of papers in books rather than just samples. The afternoon tea and venue were close and good. All in all a very successful outing.