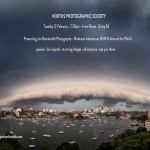 Tuesday 12/02
What an amazing presentation night. We all loved it and the comments couldn't be better. It was hard to believe that this was his first time presenting to other photographers, because it was both entertaining and inspiring.
Jan took us trough his photographic journey: his first digital camera and those first long exposures, how he has grown as a photographer, his adventures to get those amazing astro photographs, the excitement of capturing the perfect storm, the gear he likes and the thinking behind his incredible images.
The time lapse and videos made an already great presentation even better.
This was a great way to start the year, I hope he presents again in the future.
If you want to see more of his work, check his instagram feed, he posts not only great images, but also the very entertaining stories behind them: @janbreckwoldt_photography