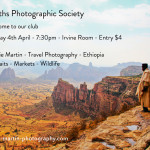 Tuesday 4/04 Valerie Martin, Travel Photography; Ethiopia +portraits, markets & wildlife.
A very interesting evening with Valerie Martin, a freelance photographer based on Sydney's northern beaches. She has had an exciting and varied career working as a press photographer in London, freelancer in the United States and senior staff photographer at Australian Consolidated Press. Her style is to work in a contemporary manner using as much natural light as possible. Being versatile and working quickly especially on street photography for portraits and market opportunities. Valerie showed wonderful travel images on Ethiopia, a taste to inspire anyone to travel there. Working with her street photography images she gave helpful tips on taking the shot quickly and not messing around. Plus the type of lens she travels with giving the approximate focal length, and using manual or aperture settings.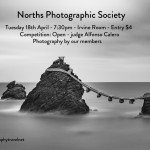 Tuesday 18/04 Competition Open – judge Alfonso Calero
It is always great to see wonderful work presented. We can't all be winners but more importantly it's learning from the judge's critique that counts, the awards are a bonus!

Online subject – Framed – judge Gavin Marchio
Social dinner; Thursday 27/04.
Papaya Thai Cammeray, a great night. Sixteen enjoyed a unique menu of delicious food, full of flavour and colour, and very generous servings.