Click image
The competition is open to Norths Photographic Society members only and is not open to the public.
HomeHQ Artarmon, shopping Centre  are once again very happy to be working with our club, the theme is Spring/Summer and ties in with the Willoughby Councils Spring Festival and will feature the exhibition in their Spring Festival guide.
The exhibition will showcase the wonderful work and diverse talents of our members. There will be a launch and announcement of the winners. Finger food and drinks provided.
Exhibition runs until the end of September.
Congratulations to all and thanks for entering.
Winner: Kian Mak, Sri Lankan Day Break
2nd  Kerry Boytell, Summer Surf Carnival
3rd Michael Hing, Spring Discovery
2014 Kian also won the HomeHQ Spring/Summer competition.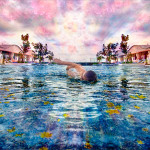 Click image for large view
His image Swimming into Spring & Summer
Michael Hing  2nd –  Fun in the Sand
Steve Mullarkey 3rd  – Pittwater Storm
We thank the team at HomeHQ for hosting the competition and awarding the prizes.
The layout of the images in the gallery were just great.
Thank you for the drinks and lovely food.